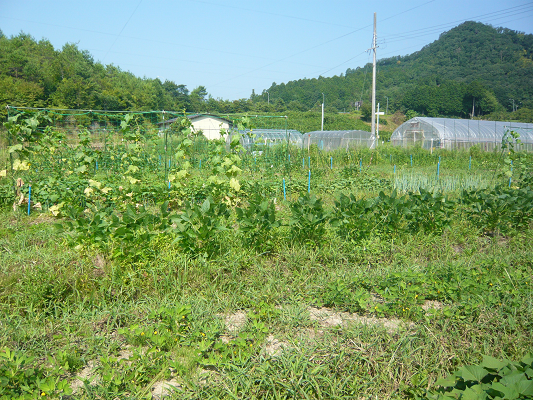 Kawano Yutaka(one of Kawano Farm's member) met Mr.KIMURA 8years ago.
I had searched the sustainable cultivation for long time.
In Tokyo Mr.Kimura lectured his established new cultivation at the open seminor held by Mr.Shimizu's group.
His new cultivation is
not to use pesticides and fertilizers
.
His Natural Cultivation doesn't even use compost or manure.
For the first time I could not believe in the abailability of it.
Therefore very often I atended at the meeting held by Mr.Shimizu.
In 2012 we decided to start Kimura Method Natural Cultivation in Ayabe.
For the first three years we made effort to change paddy field to vegetable fieid.
We needed three years to get better the drainage.
In that case many farmers bring soil from the other land.
But we could not bring soil,because we could not buy reliable soil by the nuclear power plant accident.
Since 2015 we cultivated vegitables.
Now we puroduct and deliver more than 30 kinds of vegitables to member's home in the Greater Tokyo Are and the Kyoto-Osaka-Kobe area.